Custom Flowers for Your Next Event
Set the mood for your next gathering, party, gala, corporate meeting, or special event with custom flowers and event decorations from the talented designers at Phillip's Flowers & Gifts. Here are just a few examples of their spectacular work. Meet with our design and event planning experts to discuss your colors, theme, and vision. We'll take care of the rest -- from simple to stately to cutting edge -- and do it all with style. Find out why Phillip's adorns so many of Chicago's top events. Call us today!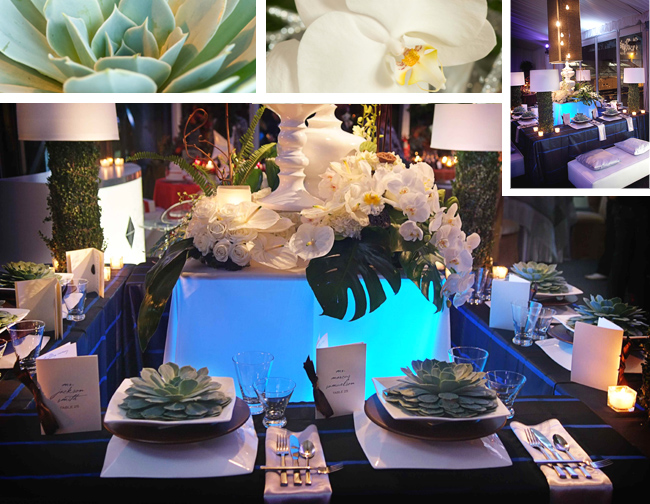 Urban Lux - Modern details and botanically inspired accents combine in this dramatic tablescape, blending geometric shapes, Boxwood lamps, and Aeonium succulents framing an illuminated central display of Cattleya and Phalaenopsis orchids, roses, hydrangea, anthurium, and Monstera leaves. Architectural influences are highlighted with overhead custom lamps and glossy apothecary jars.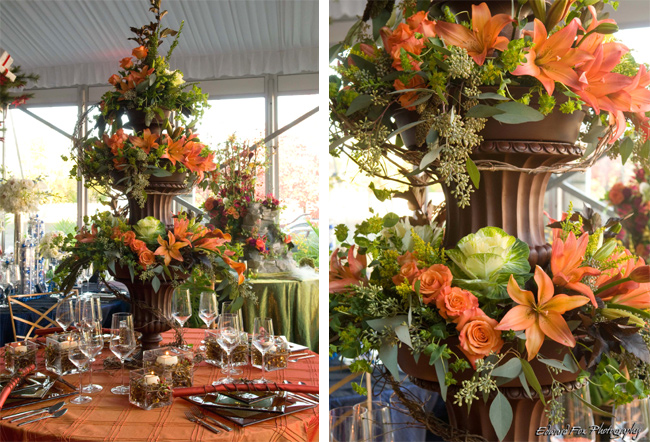 Spendid Autumn - A garden iinfluenced three-tier tower showcasing nature's orange and lime green palettes with vibrant orange roses, Asiatic lilies, Bupleurum, Seeded Eucalyptus, and Cabbage Flower, intertwined with flowing honeysuckle branchres.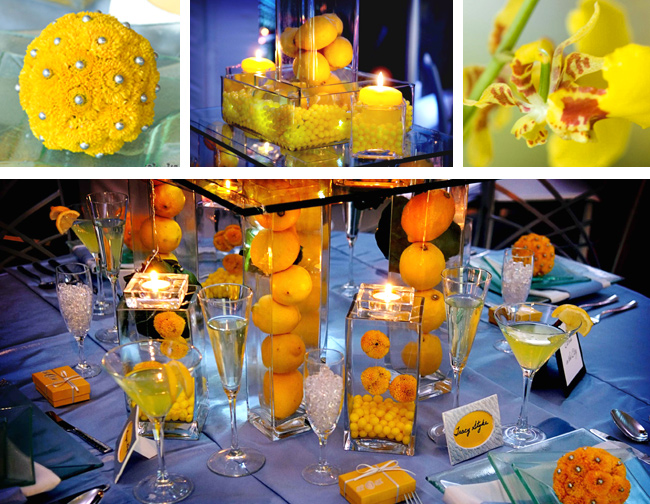 Lemon Drop - This eye-catching monocromatic tablescape features pomander balls of yellow blossoms with steel grey accents at each place setting, and a central candlelight display of florals, fruit, and Lemon Drops in glass against a backdrop of blue, grey, silver, and black. Visually appealing because of the contrasting colors.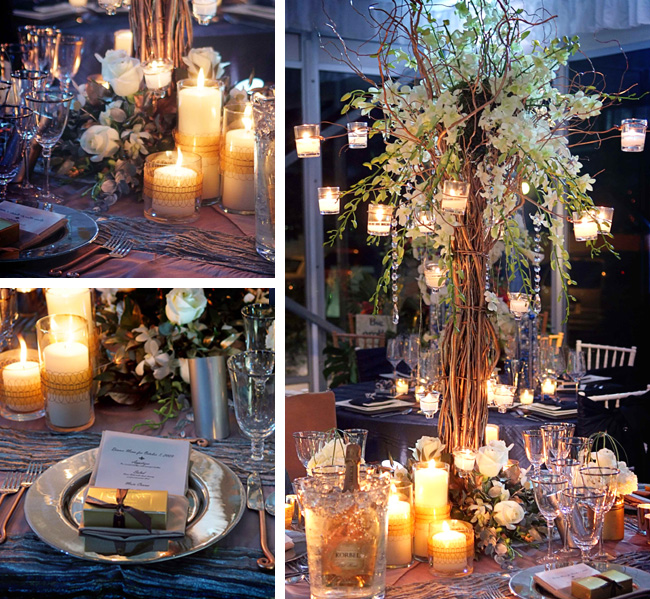 Golden Opulence - A golden Curly Willow centerpiece is the focal point of this elegant tablescape, featuring Hawaiian Dendrobium Orchid sprays, shimmering votives, and sparkling hanging crystals. A cluster of roses and orchids at the base complete the look with stately place settings and glowing pillar candles, engaging the senses to reflect and explore.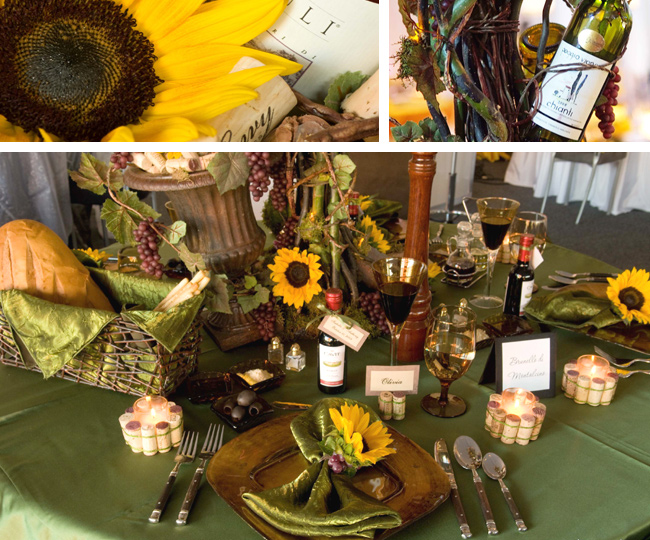 Vineyard Celebration - Details abound in this natural tablescape, created with the idea of enjoying life to its fullest. Good food, good times, and good friends abound.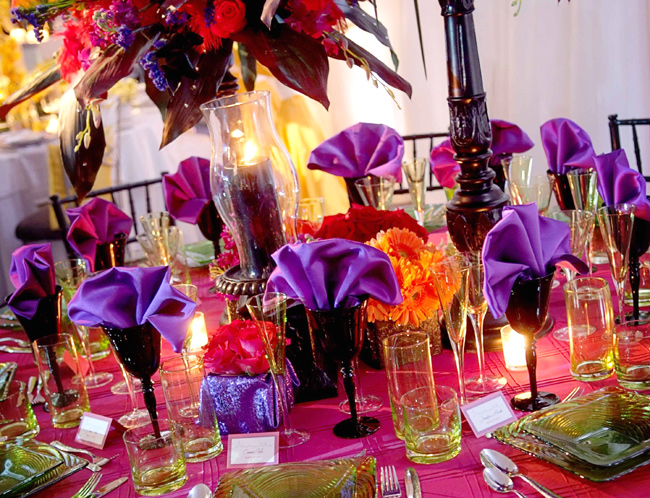 Playful Colors - Get the party started with this playful theme of bright and bold colors with a gothic edge. Incorporating pinks, purples, oranges, lime green, and reds with a twist of dark accents, this vibrant tablescape features striking monochromatic clusters of flowers, vivid linens, and candlelight crowned with one or more festive elevated centerpieces that tie it all together.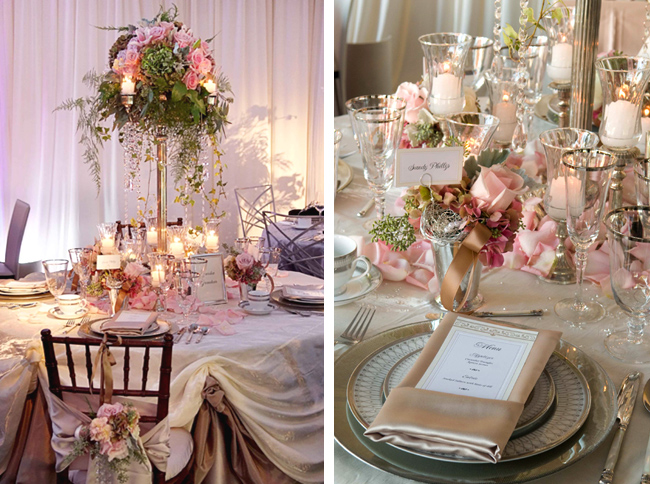 Romantic Tradition - This romantic setting combines soft pink, rose, silver, frost, and taupe hues with true Old Hollywood style. The silver candleabra centerpeice features Livia roses, green and burgundy hydrangea, Plumosa, Dusty Miller greenery, and sparkling strands of crystals. Silver Mint Julep cup place settings and matching floral chair accents add a special extra touch of gracious sophistication and glamor.
Photos courtesy of Edward Fox Photography and Argentine Leyva Photography. For additional information or to schedule a free consultation for your next event, call our Special Events design team at (630) 719-5186, or visit a Phillip's Flowers shop near you in Hinsdale, La Grange, Naperville, Westmont, Downers Grove, Wheaton, and Elmhurst. We look forward to working with you to make your next affair a most beautiful and memorable experience for all.