About Flower Delivery and How to Send Flowers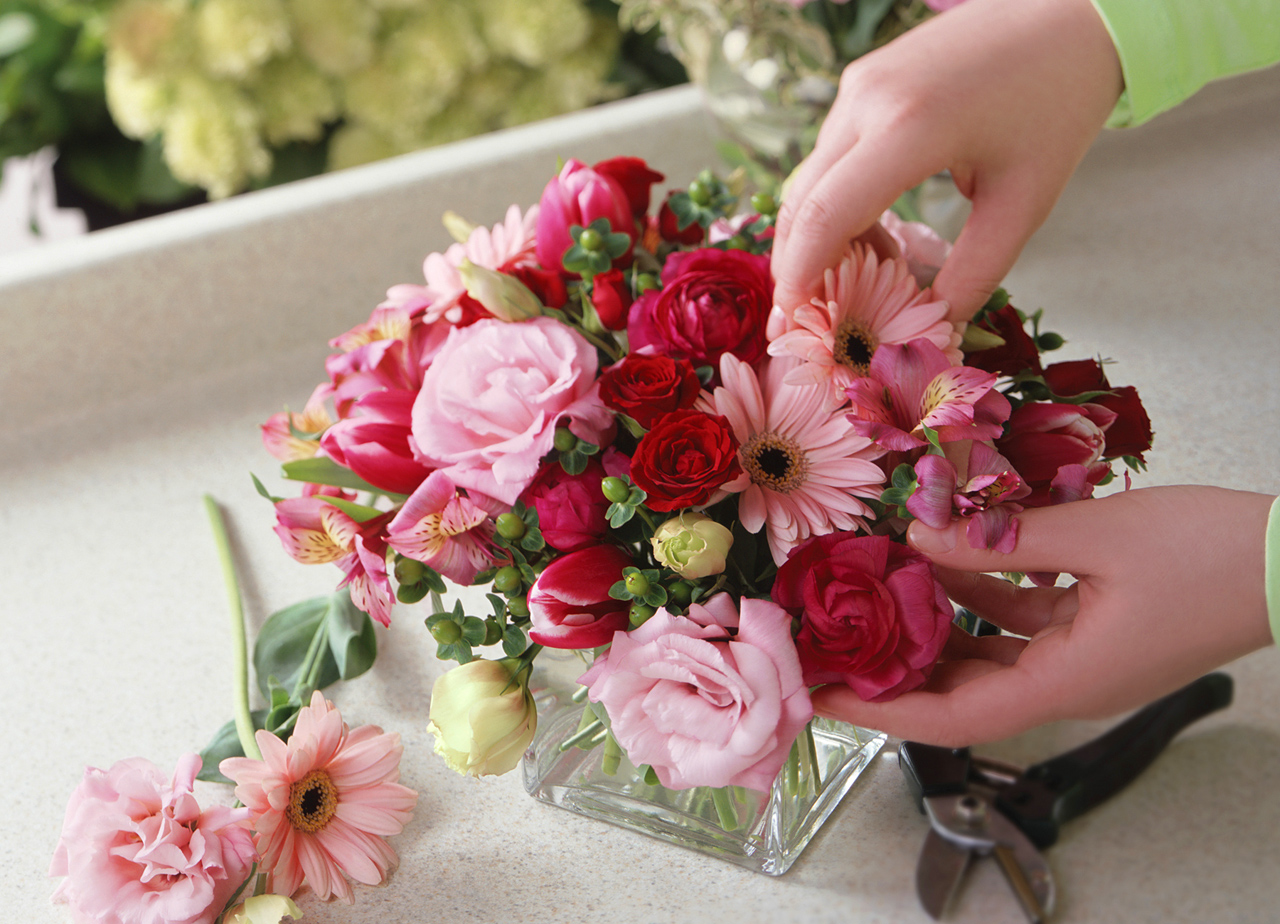 Flower Delivery
Flower delivery offers several benefits that make it a popular choice for sending flowers to friends, loved ones, and business associates almost anywhere, especially when you can't be there in person or when you want the flowers displayed before your arrival at an event, celebration, funeral, or other gathering. Here are a few of the reasons why floral delivery is so popular.
Convenience: Professional flower delivery allows you to conveniently send flowers without having to visit a flower shop in person, pick up the gift, or transport it yourself. You can easily place an order online or by phone, either by choosing from a variety of everyday fresh floral arrangements or by asking the florist to design something especially for your style and budget. Once your bouquet is designed and ready, it will be hand delivered to the recipient's home, business, or event space. What could be easier?
Selection: Flower delivery services typically offer a wide range of beautiful fresh flowers, bouquets, and floral arrangements for almost every occasion and sentiment. Some of the most popular options may include roses, lilies, hydrangeas, tulips, orchids, or other gorgeous blooms, and many are available in a variety of color schemes and price levels. And, florists specialize in creating unique custom designs, too. So, you can shop online, call for assistance, or order in-store if you wish.
Professional Design: There are occasions when you just want to pick up a bunch of flowers to take to someone yourself or enjoy at your own home. But, when sending a floral gift and using flower delivery, your flowers will be professionally designed for the best overall presentation. A floral designer will select, prepare, and arrange the flowers, so the recipient doesn't need to both with that, and the arranged flowers will be delivered in water to ensure the best care throughout the delivery process. No wonder fresh flowers designed and delivered by local florists are the most popular floral gift sending options throughout North America. After all, it's what we florists do best!
Freshness and Quality: Experienced flower delivery services prioritize the freshness and quality of their flowers. Larger florists like us even source their blooms directly from growers and use large, walk-in coolers to ensure ideal temperatures and humidity, all to ensure that you receive fresh and vibrant blooms that will last longer.
Geographic Flexibility: If you have to transport flowers yourself, you may be limited in terms of time and distance. Fortunately, many florists can provide local delivery for you throughout their metro area and usually at a surprisingly economical rate. Some florists, like Phillip's, also offer nationwide delivery through their fellow florists in other cities.
Timely Delivery: Flower delivery services understand the importance of timely delivery, especially for special occasions, sympathy expressions, and events. Same-day or next-day delivery is available, and local florists can also often arrange for delivery by a specific time, ensuring that your gift arrives when its most appropriate and appreciated. In those cases when a floral delivery can not be completed when it was requested, for example when no one is home to accept the delivery, the local delivering shop will leave a note on the door and/or leave a phone message and gladly arrange for a prompt redelivery when possible.
Personalized Messaging: Most flower delivery services allow you to include personalized messages along with the flowers. This enables you to express your sentiments, such as a heartfelt note of thanks, a romantic message of love, a hearty congratulations, or well wishes for any special occasion.
Surprise and Joy: One of the best things about flower delivery is that it's often unexpected. So, a simple gift of flowers delivered to someone can create a memory of both surprise and joy for the recipient. Receiving an attractively designed bouquet unexpectedly can also brighten the recipient's whole day, while conveying your love, gratitude, or appreciation.
Additional Gifts and Services: Many flower delivery services provide additional options to enhance your gift. You can choose to include specialty items like chocolates, balloons, teddy bears, or personalized gift cards. Some florists also offer same-day delivery and weekly or monthly subscriptions services for regular deliveries throughout the year.
Nationwide and International Delivery: Flower delivery services and florists like Phillip's also often offer nationwide or even international delivery options, allowing you to send flowers to loved ones regardless of their location. This is particularly useful when you want to celebrate or comfort someone who is far away. Keep in mind that due to time zone differences and currency exchange rate fluctuations, deliveries outside the U.S.A. and Canada may be a bit more expensive and require two to three days for completion.
In short, flower delivery offers convenience, a wide selection of high-quality arrangements, timely delivery, personalization, and the ability to create surprise and joy for the recipient. It's a convenient way to send personal and meaningful gifts to loved ones near and far or to brighten up your own space with flowers delivered direct to your doorstep.
Things to Keep in Mind when Ordering Flower Delivery
Whether you order flowers online, in person, or by phone, there are several factors that will help ensure a satisfactory delivery experience. Here are a few things to keep in mind:
When possible, try to order one or more days in advance. Same-day service is available in many areas, but many florists will be able to serve you better, or offer you more options and a better value, if you can provide a little advance notice.
Have the recipient's complete delivery address available, including his or her first and last name, the company or organization if any, the street address, any suite, floor number, or department name, along with the city, state, and zip, if possible. Business or facility names are especially important for deliveries to hospitals, funeral homes, workplaces, and event venues. They help clarify at a glance both the type of delivery and the type of facility, and they also make finding the address much easier.
The recipient's phone number is also very helpful and may be required for many deliveries, as means of notification, clarification, or occasionally rescheduling with the recipient if necessary. These little details may seem somewhat trivial, but they are all very helpful in routing and completing deliveries promptly, professionally, and during appropriate times of day.
Is delivery to a hospital or medical facility? Let your florist know if the recipient is a patient or staff member. If a patient, the delivering flower shop will usually contact the facility directly to confirm the patient room number. Patient deliveries are usually accepted in one location and distributed to patients later by staff or volunteers. If the recipient is a doctor, nurse, technician, or other staff member, that should be noted, too, along with any department, floor, or building number. Deliveries for staff members are often received and distributed differently at medical facilities.
For delivery to a wake, funeral, or memorial service, be sure to include the name of the funeral home, church, or other location. Then, the delivering florist will usually contact the funeral home or house of worship to confirm the delivery date, appropriate time(s), and other details.
Need delivery by a particular time of day? Most florists will be happy to accommodate you whenever possible, but you should order at least 24 hours in advance and be aware that time deliveries can not always be guaranteed, especially at peak floral holidays or outside of your florist's immediate delivery area. When in doubt, provide an alternate delivery address if needed or arrange for delivery one day earlier (to be sure your gift is already there in plenty of time).
Of course, other details to keep in mind when ordering any flowers include:
The Purpose and Occasion for Your Gift
Any Favorite Flowers or Colors You'd Like to Request
Your Approximate Budget
Your Personal Enclosure Card Message
A great florist will help you with all these details, because florists are experts in flowers, flower design, and flower delivery. So, when in doubt just ask. And, your florist will take it from there.
Delivery by Phillip's Flowers
With six family-owned flower shops, two warehouse facilities, and a fleet of more than 30 delivery vehicles, Phillip's Flowers delivers fresh flowers, bouquets, and plants in the city of Chicago and most suburbs, including these local delivery towns, Monday through Saturday. Sunday delivery is also available in many western suburbs, such as Elmhurst, Hinsdale, La Grange, La Grange Park, Naperville, Westmont, Wheaton and most neighboring communities. And, customer satisfaction is guaranteed. Phillip's Flowers serves all Chicago area hospitals and funeral homes. We're also one of the most experienced wedding and event florists in Chicagoland, so we work regularly with many of Chicagoland's finer event venues, as well. For additional information, call 630-719-5200. We'll be glad to help.
Chicago
Downers Grove
Elmhurst
Hinsdale
LaGrange
Naperville
Oak Brook
Westmont
Wheaton