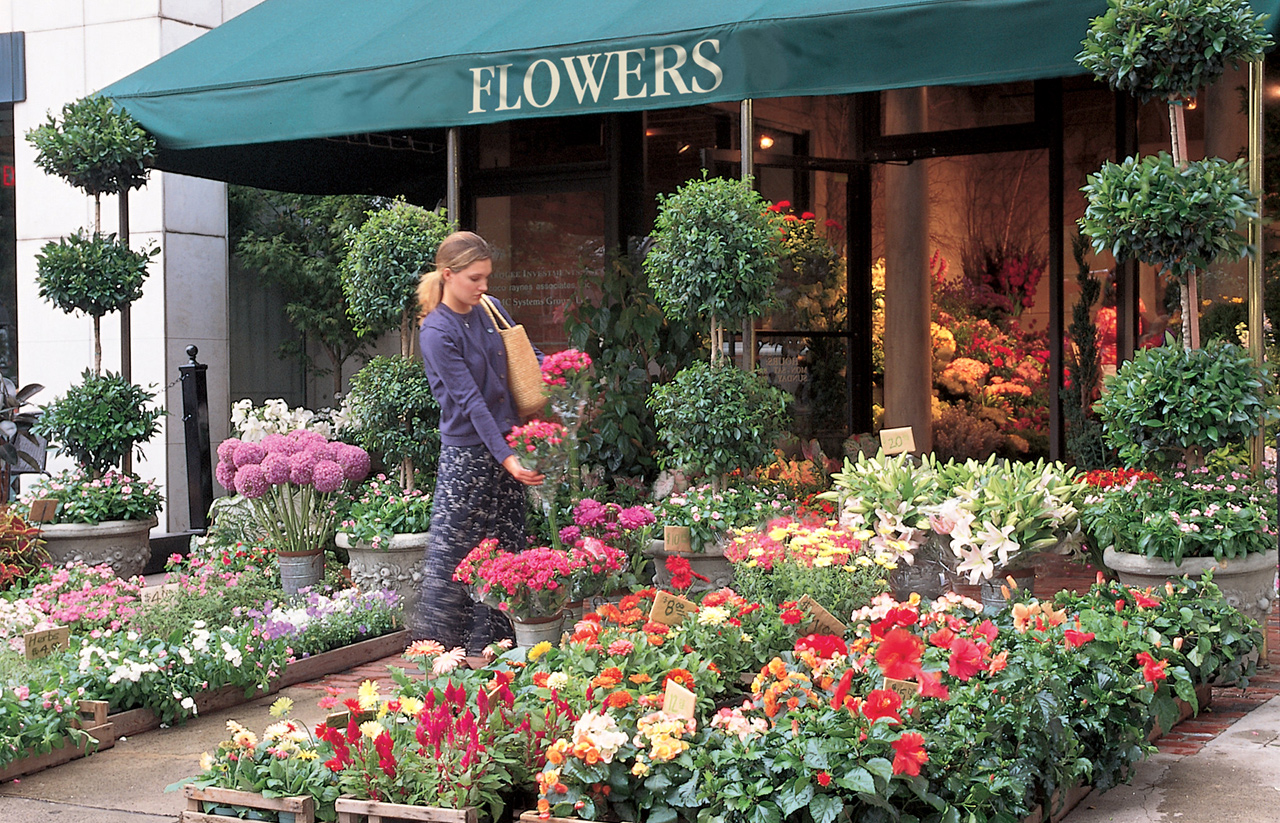 Summer Floral Designs
In summer, floral designs often reflect the vibrant and energetic spirit of the season. People naturally gravitate toward arrangements that are bright, cheerful, and evoke feelings of joy and relaxation. Some of the more popular floral designs and styles during the summer months include the following.
Bright Summer Blooms: Colorful bouquets of sunflowers, roses, and bold citrus accents in tall vased arrangements or casual compact bouquets are great for summer gift-giving and entertaining, too.
Wildflower Bouquets: Loose, unstructured bouquets that mimic the look of wildflowers are a popular choice in summer. These can feature almost any assortment of either bright or pastel blooms with greenery for a natural, fresh-from-the-garden look.
Patriotic Designs: Patriotic bouquets of red, white, and blue blossoms are popular for many outdoor summer events, especially near Memorial Day, Independence Day, and Veterans' Day.
Tropical Arrangements: Tropical flowers and foliage are a hit during the summer months, as they add an exotic and lush feel to any arrangement. Flowers like orchids, anthuriums, protea, and birds of paradise are commonly used in tropical-themed designs.
Sunflower Bouquets: Sunflowers are synonymous with summer. Whether in a casual bunch or a dramatic mixed arrangement, their large, sunny blooms always create a striking focal point.
Garden-Inspired Designs: Designs that incorporate a variety of summer garden flowers, such as roses, zinnias, daisies, and dahlias, create a charming and romantic aesthetic.
Mason Jar Arrangements: Rustic mason jar arrangements are always popular in summer due to their casual and laid-back vibe. They are often filled with a mixture of seasonal blooms and tied with twine or ribbon.
Sweet Citrus Bouquets: Incorporating bright citrus colors, and sometimes citrus fruits such as lemons, limes, and oranges, adds a refreshing and zesty element to summer floral designs.
Pastel Palette Arrangements: Soft, pastel-colored flowers in shades of pink, lavender, peach, and light blue evoke a gentle and calming feeling that suits almost anyone's summertime.
Beach-Themed Floral Decor: For coastal regions and beach weddings, floral designs featuring seashells, starfish, and coastal botanicals like hydrangeas and sea grass can create a wonderful summery atmosphere.
Hanging Floral Installations: Whether for weddings, parties, or outdoor events, hanging floral installations create a stunning visual impact and make use of vertical spaces to showcase summer blooms.
Flower Crowns: Summer festivals, weddings, and outdoor events often feature flower crowns made from fresh blooms and foliage, adding a whimsical and bohemian touch to any occasion.
Floral designs in summer often emphasize natural beauty, the use of seasonal flowers, and arrangements that reflect the joy, warmth, and fun of the season. They are also often tailored to particular occasions, such as birthdays and anniversaries, which are especially plentiful in summer.
Popular Summer Flowers
During the summer season, many flowers bloom and add vibrant colors and beauty to gardens, landscapes, and floral arrangements. Here are just some of the most popular summer flowers.
Sunflowers (Helianthus): Known for their large, bright yellow flower heads, sunflowers are a quintessential summer flower that symbolizes happiness and warmth.
Roses (Rosa): Roses are beloved flowers that bloom throughout the summer, coming in various colors and varieties, each with its own unique charm and fragrance.
Lavender (Lavandula): Lavender is a fragrant and drought-resistant plant with beautiful purple flowers, often used in gardens and for making scented products.
Marigolds (Tagetes): Marigolds are hardy annuals that come in vibrant shades of orange, yellow, and red, making them perfect for adding a pop of color to summer gardens.
Zinnias (Zinnia elegans): Zinnias are easy-to-grow annual flowers that come in a wide range of colors, from bold and bright to soft and pretty.
Dahlias (Dahlia): Dahlias are stunning summer blooms available in various shapes and sizes, and they come in a wide array of colors, making them a favorite among gardeners and florists.
Geraniums (Pelargonium): Geraniums are popular summer bedding plants with colorful flowers and aromatic leaves, available in different hues, and great in planters, too.
Hydrangeas (Hydrangea): Hydrangeas are elegant, lush flowers with big rounded blooms, in colors like blue, pink, white, and purple, that are very popular both for outdoor landscapes and in fresh flower arrangements, too.
Cosmos (Cosmos bipinnatus): Cosmos are airy, delicate flowers that bloom abundantly in the summer, attracting butterflies and bees to the garden.
Lilies (Lilium): Lilies are elegant and fragrant flowers available in various types, including Asiatic lilies, Oriental lilies, and Trumpet lilies, all adding a touch of sophistication to summer gardens and floral gifts.
Coneflowers (Echinacea): Coneflowers are attractive, pollinator-friendly perennials with daisy-like flowers in shades of pink, purple, and white.
Petunias (Petunia): Petunias are great summer annuals known for their profusion of trumpet-shaped blooms in many colors.
Other summer fresh flower favorites include stock, delphinium, solidago, and asters.
Keep in mind that each region and climate may have its own set of popular summer blooms. So, for outdoor plantings consult your local garden center and choose varieties that thrive in your area. For fresh summer flower arrangements, trust your local florist to recommend the best options and values. Either way, you're sure to enjoy all the floral beauty that summer has to offer.
Chicago
Downers Grove
Elmhurst
Hinsdale
LaGrange
Naperville
Oak Brook
Westmont
Wheaton