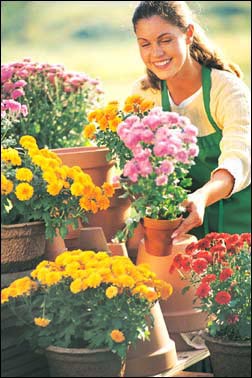 Founded in 1923, Phillip's Flowers operates ten award-winning flower shops and is one of Chicago's leading online florists.
Local Florist Wins Top Honors
A Chicagowide and Nationwide Favorite
What's Chicago's favorite sports team? Best loved museum? Most popular pizza place?
Each year, thousands of Chicago area residents voice their opinions through surveys. The winners are often downtown Chicago traditions. But, in one poll, sponsored by the March of Dimes, American Airlines, and Chicago Magazine, a family-owned flowers business in the western suburbs was named Chicago's favorite florist.
The favorite team? Cubs. Best museum? Art Institute. Favorite florist? Phillip's Flowers & Gifts -- a DuPage treasure that's become a citywide favorite -- with multiple local flower shops serving Chicago and 150 suburbs.
Seven family members are active in the florist business, which now reaches beyond Chicagoland, too. For nationwide flower delivery, Phillip's was recently named one of the Top 50 florists in North America by both FTD and Teleflora. The company's online flower shops have earned it ebusiness honors, including a Top Service award from Yahoo! Shopping, and Phillip's has also been named an Illinois Retailer of the Year.
Phillip's Flowers may be best known locally for its colorful floral shops, busy delivery vehicles, and custom wedding flowers. Still, in an age of giant corporations and mega-mergers, it's nice to know that some small family businesses like Phillip's are blooming, too.
For additional information or to send flowers almost anywhere, visit Phillip's 1-800-FLORALS florist, drop by any of the Phillip's flower shops near you (in Chicago, Lombard, Elmhurst, Wheaton, Naperville, Westmont, Downers Grove, Hinsdale and LaGrange), or call (630) 719-5200.

Phillips Flowers
Phillip's Flowers Home Page Send Flowers Online Today

Wedding Flowers Weddings & Events More Events


More Helpful Resources

Christian Online Memorial Tributes - Uplifting online memorials founded on Christian faith.

Top Wedding Websites - Your Guide to Top Wedding Websites!



---
© 1995-2016 All America-Phillip's Flower Shops, Chicago's Online Florist
Images © 1995-2016 FTD, Teleflora, Phillip's Flowers, SAF, CCFC, or PhotoDisc