Chicago Colleges and Universities
Chicago has long been one of the most distinguished centers of higher education in America. The University of Chicago, Northwestern University, and other Chicagoland academic institutions have been acclaimed throughout the world, and Chicago's many liberal arts colleges, technical schools, religious institutions, professional schools, and community colleges have set standards for other colleges and universities nationwide. The site of the first nuclear reaction in history was at the University of Chicago, and the idea of a junior college was first poineered by Chicagoans at what today is Joliet Junior College, the oldest community college in America. Chicago colleges, universities, and graduate schools are some of the city's greatest achievements, thanks to the vision, dedication, and scholarship of students and faculty alike.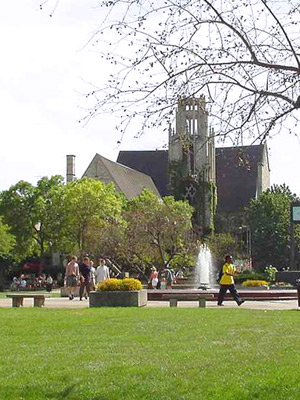 Want to Suggest Changes or Additions? Please send a message to shopping@phillips-flowers.com, and be sure to include as much information as possible.
Attention Chicago Area Schools: Want to add a brief description and/or weblink for your Chicago area college, university, or professional school? Please send a message to shopping@phillips-flowers.com, and be sure to include: Your Name, Your Site's URL, Your Requested Description (125 chrs. max.), and the page URL on which you can display our listing in return.
Want to send flowers? Sending flowers in Chicago and the suburbs is easy with Phillip's award-winning Chicago area flower shops. Send beautiful roses, flower arrangements, plants, and gift baskets for any occasion. Simply order online at Chicago Flowers. Same day and next day delivery available. Satisfaction guaranteed. Since 1923.
The information above is provided as a helpful resource for general reference only. Commercial use or republication is prohibited.